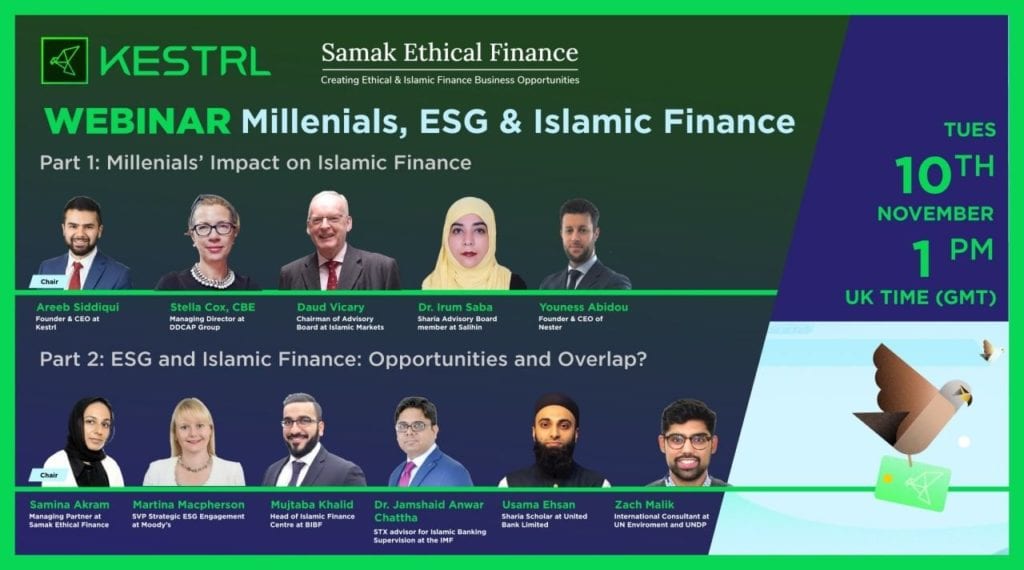 Stella Cox CBE was privileged to participate in the two part webinar ''Millennials, ESG and their impact on Islamic Finance' hosted by Kestrl and Samak Ethical Finance Ltd.
Samak Ethical Finance Ltd is an independent, international Islamic and Ethical finance consultancy based in London, specialising in working with conventional financial services firms that are new to the Islamic and ethical finance arena to gain credible market entry and to further strengthen the position of those firms already committed to this sector.
Kestrl aims to be a 100% ethical and interest-free payments and wealth management platform, offering an alternative to the conventional banking system.
The panels were moderated by Areeb Siddiqui, Founder and CEO of Kestrl and Samina Akram, Managing Partner of Samak Ethical Finance Limited and Found of the Women in Islamic & Ethical finance forum (WIEFF). 
Stella spoke during the first panel session entitled: 'Millennials' impact on Islamic Finance'. She was joined by a number of pre-eminent industry experts including David (Daud) Vicary (Abdullah), Chairman of Advisory Board, IslamicMarkets.com,  Dr. Irum Saba, Program Director, Institute of Business Administration, Sharia Advisory Board member, SALIHIN SHARIAH ADVISORY SDN BHD,  Youness Abidou FCCA, CEO, Nester. She commented:
"Supported by the principles of Maqasid Al Sharia'a, Islamic banks, financial institutions and practitioners have moved beyond business activities that reflect considerations solely of Sharia'a compliance, which will always prevail, to those that encompass and reflect social and environmental impact considerations, too. In our industry sector we are increasingly focused on the S in ESG and it is our responsibility to afford that same attention to the E and the G. In fact our clients and stakeholders are demanding it" 
For further details of the session please contact Areeb Siddiqui – areeb@kestrl.co.uk or Samina Akram – samina.akram@samak.co.uk .
Stella Cox CBE, Group Managing Director, DDCAP Group