Pioneering Islamic Finance and Principles for Responsible Banking Report Launched at Global Ethical Finance Summit
UK – 10th June 2021, The Islamic Finance Council UK (UKIFC), in partnership with Malaysia based International Shari'ah Research Academy for Islamic Finance (ISRA) and the Global Ethical Finance Initiative (GEFI), has today launched the third report in its 4-part thought leadership series that aims to assist and encourage active engagement in support of the UN Sustainable Development Goals (SDGs) by the global Islamic finance sector. DDCAP GroupTM is delighted to have been a key sponsor of this research and series of reports.
UKIFC Senior Adviser Sultan Choudhury formally announced the report, to an audience of over 3,000 financial practitioners, at GEFI's flagship annual Ethical Finance Summit where he was joined by DDCAP GroupTM Managing Director Stella Cox CBE.
The report provides an analysis of responsible banking in the Islamic finance sector, assessing the level of engagement with the Principles for Responsible Banking (PRB) amongst banks in Organisation of Islamic Cooperation (OIC) member states and analysing the approaches used by 9 Islamic finance signatories. It also features notes from interviews with Al Baraka Banking Group, Bank Pembangunan Malaysia Berhad, CIMB Group, Gatehouse Bank, Gulf International Bank (UK) and Jaiz Bank who have all shown notable leadership in responsible banking.  
The PRB, which launched in 2019, is the world's leading framework for responsible banking and is underpinned by six Principles that help signatory banks to align with the SDGs and the Paris Climate Agreement.
With its underlying Shariah principles, Islamic finance is naturally aligned to responsible banking and is well positioned to lead the financial services sector's efforts towards achieving the SDGs. However, whilst a small number of organisations are making significant progress the report has highlighted the pressing need to raise awareness, in OIC member states and beyond, of responsible banking and the benefits to be achieved by integrating Shariah compliance with sustainable finance strategies and becoming PRB signatories.
TAKEAWAYS FROM THE REPORT INCLUDE:
49 of the 57 OIC member states do not contain any PRB signatory organisations.
When the PRB was launched in 2019, 14.3% of the founding signatories were based in OIC member states. Now only 10.0% of the 221 PRB worldwide signatories are based within OIC member states despite the OIC member states having a collective population of over 1.82 billion (24% of the total world population).
Of the 61 countries containing PRB signatory organisations, 13.1% are OIC member states.
Within the 8 OIC members states that contain PRB signatories there are 22 signatory organisations, located in Africa (50.0%), Europe (27.3%) and Asia (22.7%).
38 PRB signatories offer Islamic finance products and services, which equates to 17.2% of all PRB signatories.
The majority of Islamic finance institutions that are PRB signatories, 27 of the 38 organisations, are based outside OIC member states, across Europe, Asia, Africa, Oceania and the Americas.
Only 3 of the 38 institutions offering Islamic finance products or services are fully Shariah-compliant, namely Al Baraka Banking Group (Bahrain), Gatehouse Bank (UK) and Jaiz Bank (Nigeria).
The most popular Islamic product / service offered by non-OIC member states signatories is corporate finance, with 40.7% of signatories offering this. Amongst OIC member states the most popular product / services are personal banking and personal, business and corporate banking, at 27.3%.
PRB signatories are currently underrepresented in OIC member states, suggesting the PRB should increase its activities within OIC member states. Awareness of the PRB in OIC member states could be increased through working groups, targeted awareness and outreach activities. Given the mutual benefits of becoming PRB signatories to both Islamic finance institutions and the responsible banking industry, increasing engagement should be treated as a priority.
Stella Cox CBE commented "As a service provider signatory to the UN-endorsed Principles for Responsible Investment and as a Stakeholder Endorser of the UN PRB, we at DDCAP have first-hand experience of the valuable role that engagement with multinational initiatives can serve in impacting an institution, particularly the incorporation of ESG issues into analysis and decision making and into policies and practices. However, despite there being natural alignment between Islamic finance and conventional ethical finance frameworks such as the UN SDGs and the PRB, uptake of these frameworks remains limited across our industry. With this report, we hope others in the Islamic finance industry will also see the value to such initiatives and take the call to action to contribute to the wider positive impact movement and make the commitment."
ENDS
DOWNLOAD THE REPORT – https://www.ukifc.com/sdg/
QUOTES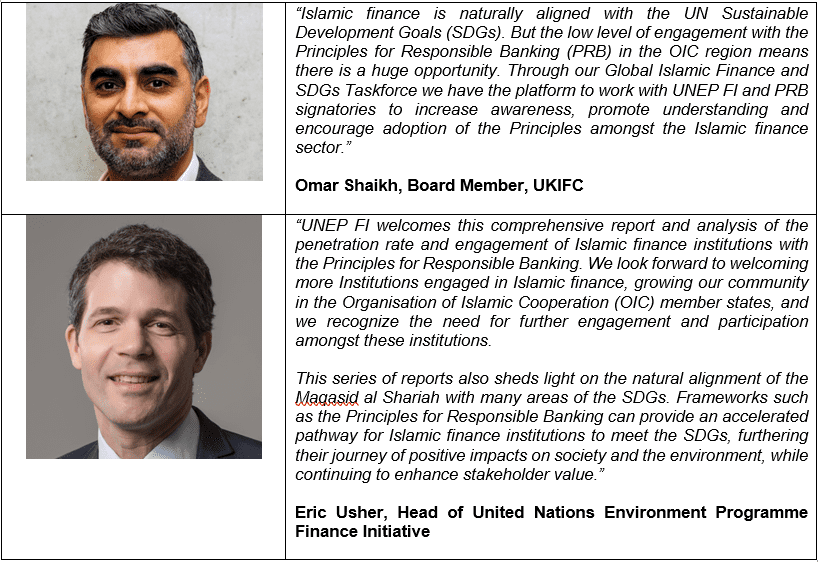 NOTES FOR EDITORS
About DDCAP Group™
Headquartered in London, DDCAP Group™ (DDCAP) has pioneered Sharia'a-compliant intermediation services, bringing automation to the industry sector through the Group's ETHOS Asset Facilitation Platform™ which delivers to clients and counterparties across the globe access to a diverse range of responsible and sustainable Sharia'a-compliant products, asset classes and instruments. DDCAP has also invested, for its own account, in a number of Islamic financial sector firms and initiatives. In 2016, DDCAP was one of the first Islamic financial sector firms to be awarded Principles for Responsible Investment (PRI) Signatory Status. DDCAP is also a Stakeholder Endorser of the UNEP FI Principles for Responsible Banking (PRB) and is a signatory to the HMT Women in Finance Charter. Outside of its London headquarters, DDCAP's international footprint includes representative offices in the DIFC, Dubai and in Kuala Lumpur. 
About UKIFC
The Islamic Finance Council UK (UKIFC) is a specialist, not-for-profit, advisory and developmental body focused on promoting and enhancing the global Islamic and ethical finance industry. It has helped six countries develop enabling regulatory frameworks for Islamic finance, enhancing financial inclusion to over 15 million people, established the award-winning Ethical Finance Round Table series running since 2010, launched the world's first joint venture between Islamic finance and the Church of Scotland, and delivered development sessions to over 500 Islamic scholars across the globe. In 2020 the UKIFC, alongside the British Government's Treasury department, established the Islamic Finance and Sustainable Development Goals (SGDs) taskforce, which will be anchored in London.
UKIFC – https://www.ukifc.com/
SDG Taskforce – https://www.ukifc.com/sdg/
FOR MORE INFORMATION OR TO ARRANGE AN INTERVIEW PLEASE CONTACT:
Chris Tait – chris@ukifc.com / +44(0)7931 103573