DDCAP Limited announced on Thursday, 16 April 2020 that it had become a Stakeholder Endorser of the UNEP FI Principles for Responsible Banking (PRB), making DDCAP the first Islamic Finance market intermediary to achieve this status.
The Principles for Responsible Banking were developed by a core group of founding banks through a global partnership between the financial industry and the United Nations Environment Programme Finance Initiative (UNEP FI), a UN-private sector collaboration of which 240 financial institutions are members. On 22 September 2019, the Principles for Responsible Banking were formally launched by 132 banks from 49 countries in New York City at the annual United Nations General Assembly. These 132 Founding Signatory Banks represented more than USD 47 trillion in assets, or one-third of the global banking sector. Less than a year on, there are now more than 170 bank signatories and over 60 Stakeholder Endorsers.
The 6 Principles (set out below) provide a framework for a sustainable banking system and were designed to help the industry demonstrate how it makes a positive contribution to society. They seek to accelerate the banking industry's contribution to achieving society's goals as expressed in the Sustainable Development Goals and the Paris Climate Agreement. In addition to bank signatories, banking sector stakeholders such as banking associations, investors, regulators/policymakers and civil society organizations are encouraged to endorse the Principles as Stakeholder Endorsers.
As a Stakeholder Endorser, DDCAP has made a public statement confirming its endorsement of the Principles for Responsible Banking and with this confirmation, it has committed to promote the Principles for Responsible Banking within its networks, support the implementation of the Principles for Responsible banking and encourage banks to become signatories.
The Principles for Responsible Banking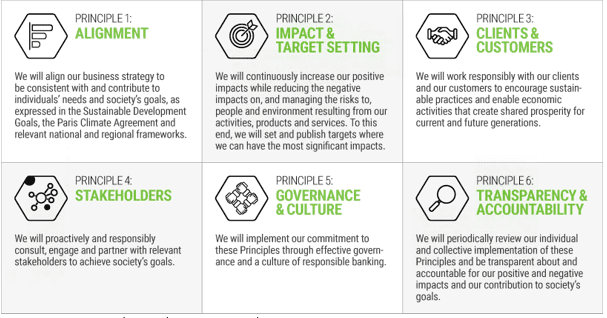 Source: www.unepfi.org/banking/bankingprinciples/